Ein Essay. Auf Englisch.
In Germany, it is possible for every woman to do sports, as long as she is not disabled. Children do sports in kindergarten and at school. In the earlier years of the last century, girls and boys were separated while doing sport. Since the early 1970ies, they are allowed to have PE together. In some other countries in this world, doing sports is not as easy for women.
Although we are allowed to do so here, we are nevertheless disadvantaged. In many sports, there are no female teams. In some, like football or handball, female teams are not as famous as male teams although women are often more successful than men. This is the case in football for example. Here, women won the last few championships while the men didn't.
Also, advertisements for female sports are kept to a minimum. For male sports, there are many events, accessories, tv shows and giveaways available. Regarding the women's teams there is nearly nothing. Last year I asked FIFA via Twitter if we could get a few tweets about the female football team but there was not one advertisement! No noodle packages with flags on them, no sweets like Hanuta or Duplo depicting the face of female players, not even anything on typically female products like nail polish …
We are lost. Lost in a universe of men. It isn`t interesting (for advertisers?) to serve women, to make female sports attractive or popular for the great audience. This is also the case in football. There are only a few female reporters and only one referee who is a woman. If you watch after-football shows, you only see male experts talking about the matches. As if women had no voices!
Like in every other aspect of life, women often have to deal with sexual harassment. They are often only there to act as eye candy or, if men don`t like them, victims of insults. Women have to be good-looking in order to be noticed and to even be a little successful, or at least to have the chance of success. That is how it is in all of life, not only in sports.
When you grow up in Germany, you have to do sports regardless of your gender. The Bundesjugendspiele are very famous by – the teachers? Or the government? Even not for the pupils … Held as an annual ritual, the games have to be mastered by thousands of pupils, but with different expectations for girls or boys. We learn to swim when in elementary school, there are mixed teams for roll hockey, volleyball or badminton; mostly all boys are playing football. There are also teams for girls in the amateur clubs. It seems as if girls can do and be anything they like. Therefore, it is very sad that women do not get the same attention in professional sports! Unfortunately, women often are not given the attention, this also includes me.

If one were to ask me what the reason for this is, my fist answer would be missing advertising, namely the lack of action by sports associations like FIFA and others, the missing interest of companies to promote women and the lack of sports broadcasts on television or radio. A few sports goods manufacturers like Nike have women (and also PoC) as advertising ambassadors (?), but this is rarely the case.
Addendum 28 July 2020 with thanks to @rhonerin via Twitter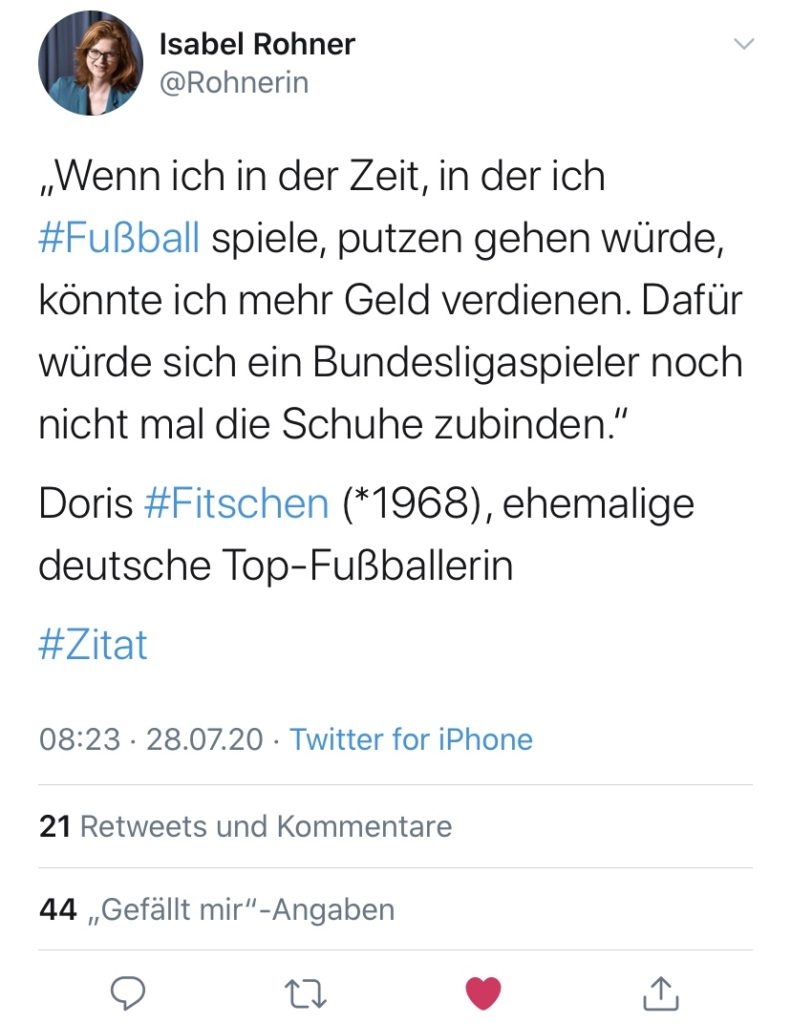 …to be continued (next time more).